Submitted by lucky7pens on Fri, 03/12/2010 - 16:10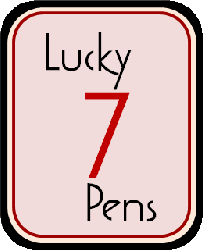 Lucky 7 Pens is a new Internet pen selling business based in the UK. We are an official dealer of Parker and Waterman pens as well as J. Herbin writing accessories and G. Lalo paper.
We sell through eBay and can also offer special discounts to Fountain Pen Network members.
Lucky 7 Pens aims to bring a premium service to its customers and offers the following:
+ Free UK delivery on all orders - We don't like inflated P&P charges which can signficantly increase the cost of your order, so with Lucky 7 Pens we offer free UK delivery for all purchases.